Specialists in Recruitment Debt Recovery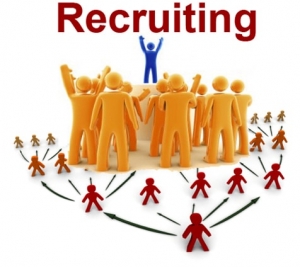 Working on a commission only basis, Sterling Debt Recovery has been collecting debts for recruitment agencies since 2007. Since then the recruitment sector has become the main focus of our debt collection business with our specialist agents dedicated solely to debt recovery for recruitment agency clients. We work regularly with over 300 agencies as and when they need us. Our clients range from sole traders to $1.5bn turnover multi-nationals.
Recruitment sector expertise
Sterling are the only debt collection agency with experienced agents dedicated solely to collecting recruitment debt. Our agents have a thorough understanding of the sector's terms of business (whether they be based on APSCo, REC, Lawspeed terms or similar), how the market operates, and the usual disputes and excuses that arise. This helps us to explain the legal standpoint to the debtor including their contractual responsibilities and the consequences of litigation. We are able to persuade the debtor that it is in their best interest to resolve the matter with Sterling rather than progress to court action. In the vast majority of cases this leads to full payment without the need for legal action meaning that our client gets paid quickly and cost effectively.
Commission only debt collection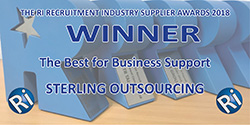 Sterling work on a no-win, no-fee basis with no up-front charges. In the majority of cases we are able to add late payment interest, fees and recovery costs to the debt meaning that the debtor effectively covers our fee. We will always pursue the highest debt value permissible by your terms of business and statute. For example where your client has benefited from a discounted commission rate, but has breached your terms of business, then we will pursue the higher fee.
Our debt recovery staff always act in a polite and professional manner in accordance with CSA guidelines, in order to maintain our reputation and that of our clients. Often we are able to get our clients paid whilst retaining their ongoing business relationship with their debtor.
Disputed debts and back door cases
In other sectors the majority of debts are simple late payments. In the recruitment sector however invoices are often disputed. Sterling are particularly successful in collecting back door hire cases and disputed debts, including for example:
Temp to perm fees.
The debtor engages the candidate for a position other than the one the CV was intended for.
The candidate leaves within the rebate period but the debtor has breached the terms of business (usually by non-payment) negating their right to the rebate/replacement candidate.
The debtor employs the candidate via another agency after our client has sent in the candidate's CV.
The candidate contracts with the debtor as a sole trader or via a 3rdparty.
The debtor has used a separate business to hire the candidate.
Back door hire cases.
You can find final demand letter templates and useful advice on how to resolve disputes and protect yourself from bad debts on our Tools for Recruiters page.
Back Door Hire Placements
A growing issue for the recruitment sector is that of missed fees due to back door hire placements. Sterling has developed HireChecker, our back door hire discovery service. HireChecker allows agencies to monitor and track down back door hire placements quickly and cost effectively on a 'fee per find' basis.
Once Sterling has found your back door cases you are free to bring them to your customer's attention and invoice for them, or come to another arrangement. Sometimes, particularly with larger customers, the back door case can be a genuine oversight on behalf of the customer, often due to poor process or record keeping. For example the candidate may have been referred by a 2nd agency and hired in another role.
If the customer refuses to pay for the engagement and you wish to pursue the debt then Sterling are able to collect in our Debt Recovery service on a commission only basis.
See more about finding, preventing and collecting back door hire placements here.

Legal advice and debt litigation
Where legal action is necessary to collect a debt Sterling will contact our client to discuss the merits and risks of such action and will only advise our client to take action if a positive cash outcome can be achieved. Our solicitor* has extensive experience in litigating on recruitment sector terms of business and therefore is able to analyse and put together a strong case efficiently. The strength of our submissions means the majority of cases are settled without going to court.
Weaknesses in sales process or terms of business can create loopholes, allowing disreputable customers to avoid payment. Sterling can assist with a review of your terms of business, to tighten up your agreements to put you in best standing to achieve full payment, and by providing advice on process to ensure that your terms are incorporated correctly.
See more about our legal services for recruitment agencies here.
*Sterling Debt Recovery uses an independent 3rd party solicitor based in our office.